The Eco Valley Foundation organized its fourth conference on sustainability in Krishna Valley. We had 132 guests on the event held on 5th October. The topic of this year's conference was ecological farming; therefore, we tried to pass on the experience of Krishna Valley's organic farming through captivating and inspiring presentations.
The afternoon programs followed the morning lectures and round-table discussions, when ecological farming experts showed the audience their everyday practices. The display of various skills symbolically demonstrated to the participants the way bread is made, from sowing to harvesting and baking. However, they also learned about the bits and pieces of ecological dairy production and organic gardening.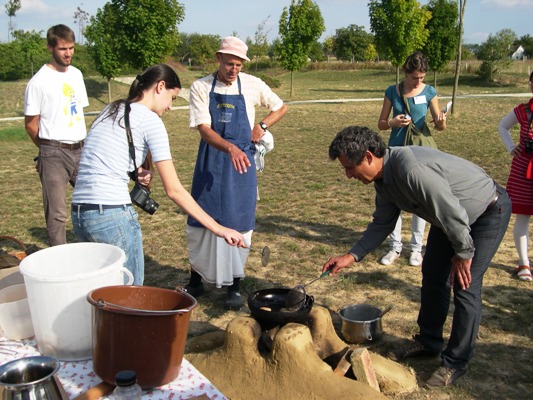 Participants could make food on the traditional clay stove.
Attendees had the opportunity to see plowing with oxen, an ox-powered mill, a show of wheat grinding and baking roundel on a traditional clay stove. In relation to sowing guests saw the making of wheatgrass juice and could taste the delicious drink. Besides the freshly baked roundel there was a display to see the ins and outs of butter and cheese making. Furthermore, in the cellar one could learn the methods of storing the different produces of the organic garden.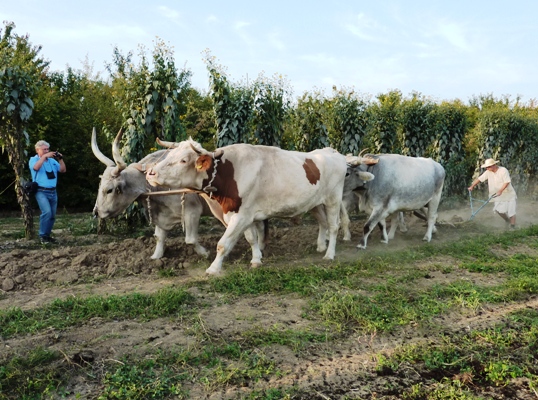 The most attractive program in the afternoon was the plowing with four oxen.
We are convinced that experience gained from residents of eco villages can serve as a model on the path of achieving a sustainable globe. We would like to contribute to this sharing of experience by providing an opportunity for the participants to exchange their views.
We welcome everyone to share their experiences regarding this and hope to see you at our next year's – fifth in a row – conference.