Dear Youth workers and Enthusiasts,
We are delighted to share the exciting news with you that our foundation, the Öko-völgy Alapítvány in collaboration with OAZA, LASOPSY, and Producoes Fixe with the support of the European Commission through the Erasmus+ program, has contributed to the accomplishment of the Impact Entrepreneurship Manual. This manual is not just a resource for entrepreneurs, it is a source of inspiration and practical knowledge for those dedicated to support young people on their entrepreneurial paths.
Why is the Manual Revolutionary for Youth Workers?
In our rapidly changing and developing world, the role of youth workers in shaping the entrepreneurs of tomorrow is more critical than ever before. The Impact Entrepreneurship Manual, developed in collaboration with four partners in the Erasmus+ project, specifically addresses the unique opportunities and challenges faced by budding entrepreneurs. It is a comprehensive program that equips one with the tools and knowledge to effectively support and inspire young entrepreneurs.
What is Inside the Manual?
Entrepreneurial Self-Awareness Inventory: This tool is essential for assessing and developing key entrepreneurial traits in young individuals. It provides a comprehensive overview of their current status and areas for further development.
Shape it Up Tool: An interactive workbook that helps refine and make entrepreneurial ideas market-ready. It is a practical guide for brainstorming, planning, and execution.
Impact Entrepreneurship Online Course: This digital platform is a repository of knowledge, real-life examples, as well as practical assignments. It guides young minds from conceptualizing ideas to realizing them.
NFE Methodologies: An indispensable section for Youth Workers, focusing on non-formal education methodologies. It offers a structured, 9-step process for developing entrepreneurial competencies, ensuring you have all the necessary tools to effectively reach and inspire your target audience.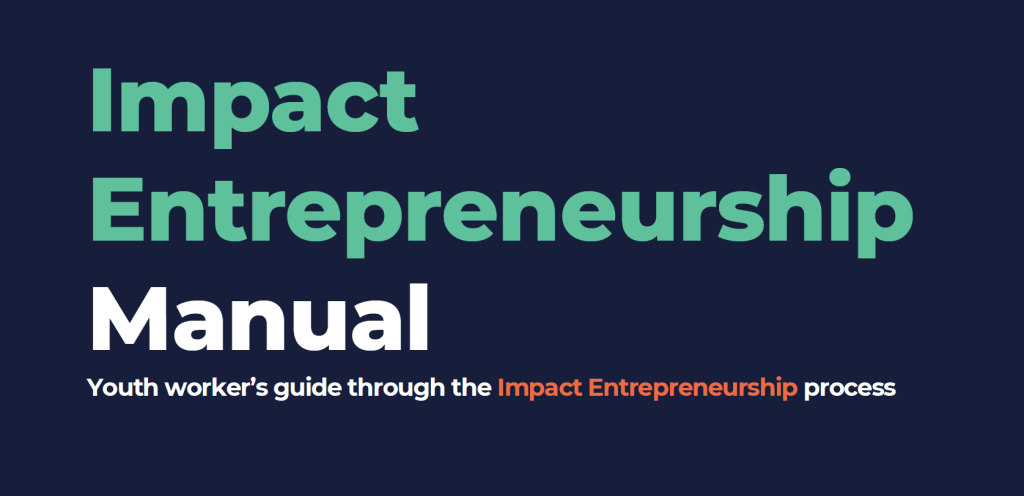 Join Us in Shaping the Future of Impact Entrepreneurship

We believe that with the right guidance and resources, young people can make a significant impact in the entrepreneurial world. The Impact Entrepreneurship program is our commitment to providing youth workers with the best resources. We warmly invite you to explore this manual and utilize its potential to make a meaningful difference.
Click here to download the Impact Entrepreneurship manual!

For any questions or feedback, please feel free to contact us.
Let's work together to shape the future of impact entrepreneurship!
The team of Öko-völgy Alapítvány