We have to pick grapes nowadays (in the middle and at the end of July), because when they start ripening, it is too late. Red grapes have to be picked before the colour changes, and white ones before lightening, when they already have enough juice.
We take a bunch and wash it once. It can be grinded with grape-grinder and can be pressed with wine-press. (It is advisable to set the rollers a bit closer, so that it presses out the grapes well.) It slightly improves the quality of our work, if we take off the grapes from the bunch, because in this way there will be less tan in the juice).
The preservation process is simple steaming (or pasteurizing): the pressed green juice (which is slightly grayish-brown in colour) has to be immediately filled into small bottles (2, 3 or 5 decilitre) and then sealed – without adding preservatives or sedimentation. The smaller bottles are advantageous after first use, because after opening Verjuice (pronounced /ˈvɜrˌdʒuːs/), it cannot be stored for a long time without cooling. One should leave little space in the bottles for air, but due to the thermal expansion some is necessary.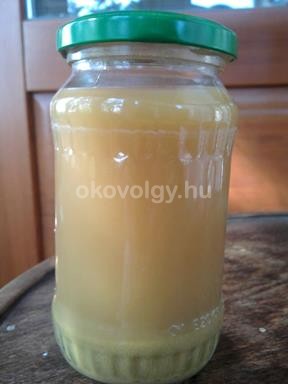 Put the sealed bottles in a pot (and also put clothes under them, or some metal mat so that they do not come directly into contact with the hot bottom of the pot), and then pour lukewarm water on them, so that they are completely covered, or only the lids may be outside the water. Afterwards we have to heat the pot, and after simmering we have to boil the water of 2-3 dl bottles for 5 minutes, and in the case of 5-7 dl bottles for 7 minutes. Then leaving the bottles in that same cooking water, we let it cool for one night. If prepared in the above mentioned way bottles of verjuice can be stored for up to 2-4 years in cool, dry, dark places.
In every situation verjuice is able to replace lemon juice, furthermore, it is even tastier. However, it is not for the replacement of vinegar! We use verjuice to make curd cheese from fresh milk, moreover, it can be used to make soft drinks, and it is also suitable for seasoning various foodstuffs.
Vilmos Pőcze