It is not a question nowadays why it is advisable to swap hard (synthetic) chemicals for green (natural) detergents, as well as using homemade ointments and creams instead of cosmetics and detergents from shops. Besides preserving our environment and protecting our health, it is the length of our purse that makes a lot of us decide to abandon using materials harmful for the environment and our health. In this way we enjoy the advantages of green household.
An additional effect is that most of the natural detergents can be utilized versatilely. They are genuinely universal products. By using them one may decrease the number of purchased items in the household, which gives further options to reduce our expenses. Furthermore, to be honest with you, for me and certainly for some others as well, it is quite an inspiring factor that concocting homemade products creates an opportunity to indulge in creative ambitions.
I will begin with the description of washing and within that the demonstration of washing soda.
Washing soda (Na2CO3, sodium carbonate)
It is a general household detergent. It has a cleaning, grease solvent and water softener effect; it has quite strong alkaline reaction. Washing soda is a white powder, which dissolves well in hot water. In the process of its industrial production there are not any by-products that have negative effect on the environment, in other words it is eco-friendly and what is more it is cheap.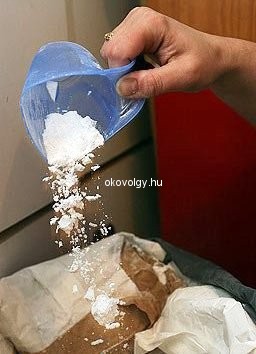 The washing soda has quite strong alkaline reaction, it is a white powder, and dissolves well in hot water (Photo source: mixonline.hu)
Last time I bought a 2.5 kg pack of washing soda in a health shop for HUF 800, plus wrapping (HUF 150). However, if we buy in larger packing, we may save more. In addition the packing (plastic container) can be returned, which means it is not only environment-friendly, but also next time you may not need another container and pay only for the detergent.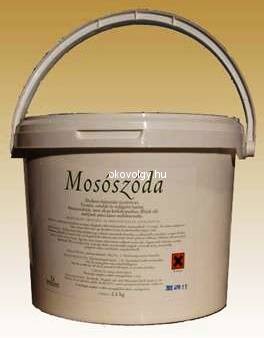 Washing soda in plastic container that may be returned. (Photo source: csudadio.hu)
It is worth to know that washing soda and natural materials clean more softly, than chemicals, washing powders. Therefore, one has to use them for some more time in order that they unfold their effect.
While washing half or one-third of washing powder can be replaced with washing soda, the rest should be some kind of environment-friendly detergent. In this way clothes will be softer and their colour will remain the same. Recommended water temperature is 40-60 Celsius degrees.
Washing gel
Another way of getting natural detergent is making homemade washing gel out of household soap. First, we have to grate the soap, and then boil it in distilled water. In case of white clothes we make gel out of soap by adding sodium carbonate to it.
Finally, it is recommended to add some slightly acidic wash-water, for instance cider vinegar, to clothes washed with alkaline liquid, as this neutralizes the alkali that remains in the textile. In this homemade wash-water I usually put some essential oils, for example tea tree oil, which has fungicidal and bactericidal effects, or soothing lavender oil, as well as various sorts of citrus oils. In this way, clothes will have a pleasant odour.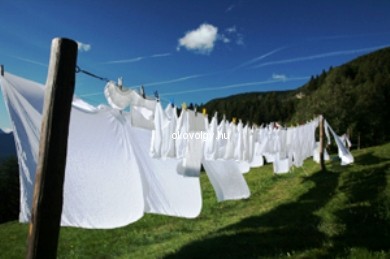 An important note: Make use of the purifying effect of the Sun that is to say dry your clothes with the help of sunshine, in the open air. (Photo source: 4szoba.hu)
Among other uses of washing gel besides many, there is the option of using it as a washing-up liquid. I put 1 spoonful of sodium carbonate to 5 liters of hot water. (Note! After washing-up glass dishes with this kind of liquid, they have to be rinsed with vinegary water, so that no stains remain on the glass. Another thing is that you must not clean aluminum dishes at all.) It is important that if you have sensitive skin, then use rubber gloves for protection, as this kind of washing-up liquid dries the skin.
If you also use washing soda, please share your experience, recipes with us. We would be much delighted to read about that as well.
Beáta Hári